If you have the problem unable to load library dbdata.dll then you came to the right place here is some steps are given you just need to follow to solve this problem. No doubt that assassin creed odyssey is a fabulous game with lots of beautiful places, awesome missions, excellent fighting system, killing the giant creatures and more exciting stuff like this. In Assassin creed odyssey there is the biggest map of all time considering all the assassin creed's game. This assassin creed game also rated the most beautiful game due to it's most beautiful locations. If you have decided to play, then you must check out this assassin creed odyssey right now just fix your problem from the any of the method given below.
Assassins Creed Odyssey Not Opening Fixed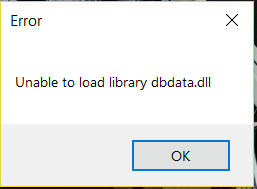 To solve Assassin creed odyssey in not opening or Unable to load library "

dbdata.dll

", You have to follow these methods. The system deletes this file and when you try to run the assassin creed odyssey game this message unable to load library dbdata.dll pop-up.
Method 1
This problem occurs because of your antivirus or your windows. What happens actually is that the Defender deletes this dbdata.dll file from your system due to which this problem occurs.
So you first have to disable your antivirus and windows defender so as it does not delete the dbdata.dll file.
You can do so by going to

windows defender settings → Virus & threat protection → Virus & threat protection settings → deselect the Real-time protection and disable your antivirus

.
Download the above file and extract it to any location. Open the extracted folder, copy all the files in it and go to the file location of the Assassin Creed Odyssey game and paste there.
Now restart your PC and run the game as administrator. You will see that your games work perfectly without any error.
Also, see

Method 2
This particular method will allow the dbdata.dll file to be on your computer. This method will solve your problem forever. Try to go through with all the steps without skipping any of the steps.
Go to start menu and search for Windows Defender Security Center.
Go again to Virus & threat protection → Virus & threat protection setting.
Scroll down a little bit and click Add or remove exclusions under the Exclusion menu.
Select the dbdata.dll in Assassin creed Odyssey directory.
You can find the location of dbdata.dll, just right click on the shortcut of Assassin creed Odyssey on the Desktop.


Method 3
This method is all about to restore the dbdata.dll file on your computer again from the quarantine file system. Apply this method just after installing the assassin creed game. This way, you will quickly recover that file without getting another problem. Follow these steps to restore the dbdata.dll file.
Just to
windows defender settings → Virus & threat protection →
Threat history.
You will see your dbdata.dll file, Click on that file and select allow on this computer.
Go back quarantine file and restore that file.
If you find these methods and the post helpful, do share with friends who are facing this problem and follow and subscribe to our website spyronation so that you get more stuff like this and you will get notified when we will post something. If you have any issues related to this post, please feel free to ask we will try to look into your problem. If you have any problem doing this method and not able to understand then comment below, we'll try to solve it.
Tags:
assassin's creed odyssey unable to load dbdata.dll,
assassin's creed odyssey pc unable to load library dbdata.dll,
assassin's creed odyssey error unable to load library dbdata.dll, unable to load dbdata.dll,